Things to Do
Clooneen House
Self Catering
Bungalow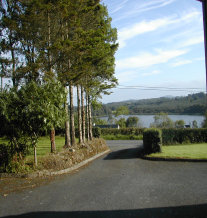 Killykeen Forest Park is woven around the waters of Lough Oughter with forest walks and nature trails. A great picnic location for all the family.
Killykeen Forest Park
Clough Oughter Castle

Situated on an island in the middle of Lough Oughter, It was built by the Anglo Normans in the early 13th century but soon captured by the O'Reilly clan, the Irish rulers of east Breifne. Owen Roe O'Neill, leader of the anti-English revolt of the 1640s died here in November 1649. Clough Oughter is a Geopark site.

Drumlane Abbey - Miltown

Drumlane Monastic site is located just outside the village of Miltown. The monastery occupies a very scenic site on the edge of Derrybrick Lake. It was reputedly founded by St. Mogue the Bishop of Ferns, in the 6th century.
The remains include a round tower, church, graveyard, fragments, of a cross-inscribed stone and the site of a priory.


Cavan County Museum. 

Cavan County Museum is located in Ballyjamesduff Co. Cavan. It is a magnificent 19th century building, which is beautifully situated amid extensive grounds nestling among the east Cavan lakes and drumlins.
An ideal starting point for a relaxing family day out. The museum traces the history of Cavan from pre history through to the 1950s and features 18th ,19th, and 20th century costume displays, galleries on folk life and  the GAA and Camogie  Associations


Cavan Crystal Showroom

Cavan Crystal was established in 1969. Its products are known all over the world. The factory is no longer open for tours but visitors can explore the extensive gift shop in the Cavan Crystal Hotel.   


Bear Essentials, Tiernawannagh, Bawnboy, Co. Cavan

Explore the gift shop at Bear Essentials, viewing the unique collection of limited edition Teddy Bears or participate on one of the many teddy bear workshops and events taking place.



Cavan Genealogy

Johnston Library Farnham Street Cavan has an extensive reference section with information on the history and heritage of the county.  The building also houses the Genealogy Centre which has information on Parish records for the entire county. The centre welcome enquiries and is happy to provide information and assist in locating and deciphering. Open the door to your Cavan roots.




Killeshandra Lake and Forest Walk

Part of Failte Ireland's Looped Walk Network. The walk has a distance of 6km and takes about 1 hour through Forest Tracks, Lake shore paths and public road.






Marble Arch Caves Global Geopark

The Marble Arch Caves Global Geopark is located in the rugged mountainous uplands and the gentle rolling lowlands of counties Cavan and Fermanagh in Irelands northwest. Taking in the world-famous Marble Arch Caves, the Geopark boasts some of the finest natural landscapes in Ireland and offers a window into the area's 650 million year past.